I am a big list maker. Totally love them.
Naturally, as I love lists and am a seeker of happiness, it would be logical for me to have a happiness list.
I originally wrote my first happiness list to help me easily and quickly know what to do when I had a free moment to myself to feel happier. You know, like a quick fix for those down moments in life.
I found it really helpful. In fact it changed my life. From this experience I now personally believe everyone would benefit from writing their own happiness list.
The ideas on my personal list are generally quick happiness ideas and help to change my mood when I am feeling down. Some of my other ideas are long term goals and ideas to bring happiness to our family and to my heart.
As many of us at this time of year are setting new goals and planning out our year, why not consider writing a happiness list instead? A short list or even a longer list of ideas that you want to try or do to help you feel happier during your year.
To help get you started I have written an ebook:
Pockets of Happiness
to give you an example of how I go about creating my own personal happiness list.
This ebook is an insight into how I have come to find more happiness in my life. I wrote this ebook to help those of you who struggle with finding time for you during your day.
I get asked all the time how I manage to fit time in for myself with seven children, so I have shared a few of my secrets. I even have created a some ideas you can borrow and use to start from.
Many of my readers who already own a copy of
Pockets of Happiness
have told me that they originally did not think they needed to read my ebook. However, after reading it they realised they did need it to help bring more happiness to their life.
Today to help you get started on your own happiness list and to plan out an awesome 'happier' year in 2012 I am allowing you to download a copy of my ebook for free.
I am only going to have my ebook:
Pockets of Happiness
available for free for you today.
I hope it will help you find greater happiness and joy in 2012.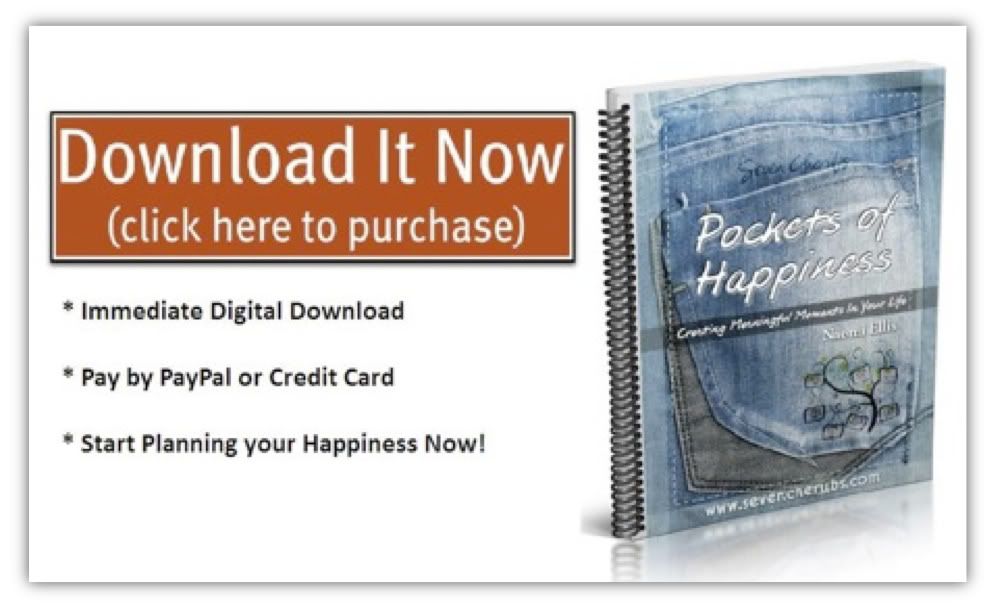 The time limit has now run out to get your free copy. I hope you enjoy reading it.
My ebook is now available to purchase for $4.95
Happy New Year Everyone.